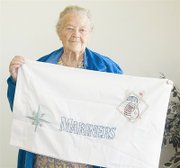 The 1920s were still roaring and Prohibition was a fact of life when Marjorie Colbert took up embroidery.
Today, the Sunnyside woman is 92-years-young and her embroidery skills are still in demand.
"I started embroidering when I was a little girl," she smiles. "I just love to embroider."
She has produced custom-ordered embroidery with themes ranging from sports motifs to animals.
Some of the more popular embroidering she has done involves Seattle sports teams, including the Mariners and Seahawks.
One of her biggest efforts to date was providing an embroidered state flower for all 50 states. Those ended up on a quilt.
Whether it's for quilts, pillow casing or throws, Colbert is ready and willing to embroider.
She's flexible and will undertake any pattern or motif that's requested.
"If I don't have a pattern, I'll use one of theirs," she smiled.
After doing embroidery for most of her life, Colbert laughed and added, "It's all easy to me!"
As for why she still embroiders after all these years, Colbert says it's not about making a little money.
Actually, you could say embroidery serves as a sort of therapy for her.
"It's relaxing, it keeps my mind off all the bad things in the world," Colbert says.