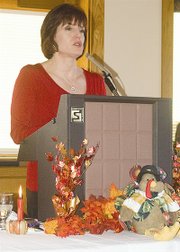 To start her presentation at Thursday's Nouvella Club meeting, Doris Kresse first asked who in the audience carried a purse or wallet, then who had a credit card or social security card in that purse or wallet.
Every hand was raised. And so, said Kresse, every person in the audience was susceptible to identity theft.
Kresse's presentation focused on ways to avoid the problem entirely, but she also gave some advice on what to do if a person is a victim of identity theft.
Kresse, manager of the Sunnyside branch of US Bank, made some basic suggestions for preventing identity theft.
Do not carry a social security card on you, because if it is stolen it gives thieves all the information they need. If you cannot remember it, consider putting it in as a phone number under a fake name in your phone.
By the same token, only put your name and address on checks, no phone number or driver's license. Even with limited information, thieves can cause problems with stolen checks, but more information makes it easier for the thieves.
Kresse warned the group about e-mail scams and phishing, where a link goes to a third-party site that tries to convince a person to give private information. "If you aren't familiar with the website, just close the browser," she said.
She also stressed the importance of regularly reviewing credit reports from the three major credit reporting companies. Each company is required to give consumers a free report once a year. To get a report online, visit annualcreditreport.com.
Kresse told the group that scammers are very persistent, and may look and act professional. "For them this is their full-time job," she warned. If the person asking for information starts to be abusive, she suggested calling the police. But people should never give any personal information to someone who has called them.
Most identity theft is still person-to-person in the form of dumpster diving, stolen purses or wallets and even credit card theft in stores. "If the person serving you has to take your credit card away to run it, make sure you get your own card back," said Kresse. "Sometimes thieves will get real jobs and switch cards on you."
If the worst happens and a person suspects identity theft, Kresse said to immediately contact the fraud departments of all the credit reporting agencies and file a police report. Close any fraudulent accounts that show up on the credit reports and contact the Federal Trade Commission to file a complaint.
Kresse concluded by saying she didn't want to scare anyone, but being careful with private information can save a lot of frustration later on.