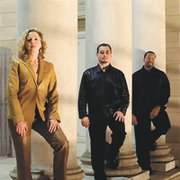 The Lower Valley Community Concert Association plans to open its 2011-12 season with the "Poulenc Trio" this Sunday, Nov. 20, at 3 p.m., in the Sunnyside High School auditorium.
The Poulenc Trio brings together three uniquely gifted virtuosos: oboist Vladimir Lande, bassoonist Bryan Young and pianist Irina Kaplan.
Attendees can expect a performance of classical selections by Beethoven, Emanuel Bach, Jean Françaix, as well as contemporary pieces by Astor Piazzolla, Mike Curtis and Francis Poulenc.
Since the Poulnec Trio's founding in 2003, the three have performed in more than 30 U.S. states and at music festivals around the world.
The group says they have a strong commitment to commissioning, performing and recording new works from living composers, with 20 new works written for and premiered by the group.
Adult season subscriptions for the entire Lower Valley Community Concert Association season are $50, and a family season subscription for two adults and two students is $105. Student subscriptions are $15, and students up to 18 years of age may attend a single performance for $5.
Without an annual subscription, adults may attend an individual performance at a cost of $30.
The 2011-12 Lower Valley Community Concert Association season started later this year due to construction at Sunnyside High School, but with the auditorium now refurbished and enhanced the concerts are back on.
For more information about the Lower Valley Community Concerts series and the coming season, call Liz Donaldson in Prosser at 509-786-3070; Jean Corliss in Grandview at 509-882-1668; Barbara Skinner in Sunnyside at 509-839-5222, or Carlina and Jorge Lobos in Zillah at 509-829-6596 (also in Spanish), or check out the website at www.lowervalleyconcerts.embarqspace.com/.