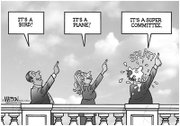 Former Joint Chiefs of Staff Admiral Mike Mullen recently said that the greatest threat to our country is not Al-Qaeda- it is our growing debt and deficit.
All Americans can agree that our nation is in the midst of a fiscal crisis. Washington D.C.'s deficit spending has hit $1.5 trillion a year and our nation currently has a $14.3 trillion debt. To address our current fiscal situation, it is time for real leadership that addresses the main drivers of our debt: entitlements.
Entitlements are programs that run on auto pilot each year and are funded directly from the Treasury without Congressional approval. Just last year, sixty-eight cents of every tax dollar you sent to Washington D.C. went to health and retirement programs and to pay interest on the national debt.
Either Congress addresses these programs on auto-pilot, or there will no longer be a social safety net for future generations.
A lot has changed since Social Security was established in 1935 and Medicare in 1965. Specifically, the life expectancy for Americans has increased by almost 18 years and when Social Security was implemented in 1935, 16 workers were paying into Social Security for every retiree receiving benefits. Today, there are only three workers per retiree, and once the baby boomers retire, there will only be two workers for every retiree.
Because of our growing population and higher life expectancy rate, Social Security and Medicare are unsustainable in their current forms.
Some of our country's leaders want to bury their heads in the sand and pretend that this looming crisis does not exist. In 2010, President Obama appointed a deficit committee, and one of their primary findings was that we must address Social Security and Medicare to manage our debt. However, the President's own budget did not address the mounting crisis of these policies.
Some believe that raising taxes is the key to fiscal prosperity, but a report by the Trustees of the Social Security Trust Fund predicts that payroll taxes would have to rise to 14.55 percent to cover the looming shortfall. As I have said many times before, America has a spending problem, not a revenue problem and increasing taxes would mean fewer jobs and an even slower economic recovery.
Medicare is also one of the major drivers of our debt. Today, economists predict that with rising costs, Medicare will exhaust all of its funds by 2021. Clearly this critical program for our seniors is in great need of modernization, but above all, it must be put on a secure financial path.
In my view, improving Social Security and Medicare must be guided by a few basic principles. First, I will not support legislation that reduces benefits for those in or near retirement. America must honor its commitment to those who have worked hard and earned the right to a secure retirement that cannot be taken away.
Second, Social Security and Medicare must be made permanently sound - a partial fix leaves the promise of these programs in doubt and places an even heavier burden on our children.
Reforming America's entitlement programs today is essential if we want any of these programs to remain available tomorrow. Although this will not be simple, and will require tough choices and true leadership, we cannot afford to go down this path of unsustainable debt for our children and grandchildren to pay off.
- U.S. Congressman Doc Hastings (R-Pasco) represents Central
Washington's Fourth Congressional District.
More like this story