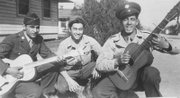 All was well for Fernando G. Farias, who was 19 years old at the time, courting a young woman and working as a delivery driver in Brownsville, Texas.
All was well, that is, until World War II broke out.
It was only a matter of time before Farias knew he would be called to serve his country, to leave his life behind and go out into the unknown.
In 1945 the 19-year-old young man joined the U.S. Army and set out for training. It wasn't long before he was sent on a ship to the Philippine Islands, where he would stay for nearly a year.
Upon arrival in the Philippines, an Army colonel set the rookie soldiers down and told them the "truth" about war.
"He told us to be very careful, always be alert and to know what we are fighting for," he said.
Then and even now, Farias says soldiers are fighting for their home, the people and their way of life.
During his military career Farias drove vehicles delivering supplies. Then he moved to driving tanks to haul gas.
"Then they put me in charge of the platoon," he said. "I had 37 trucks in my (authority); I was in charge for a few months."
Two years after enlisting, Farias was discharged and began to pick up the pieces of his life.
"When I left I was supposed to be engaged," he said. "But I talked with my girlfriend and then I talked to her father."
He said they both agreed to wait for engagement and marriage until after he completed his service to his country. Farias said he is glad his wife, Guadalupe, was faithful and waited for him to return home safely.
After two years of service in the United States military, Farias returned home and began to work.
"It took me almost a year to earn enough money to get married," he said.
Shortly after their marriage, the couple moved to the Sunnyside area and have stayed ever since.
Farias is the oldest of six brothers, all whom have retired from military work.
"They all retired, I only stayed (in the military) two years but they are lifers," he said.
The proudest moment for Farias is each and every time he can acknowledge his service to his country.
"I'm real proud to have served my country," he added.
Since his deployment more than 65 years ago, the 86-year-old and his wife have lived full and happy lives having four children, five grandchildren and 10 great grandchildren. Aside from his family and God, Farias enjoys playing his 12-string guitar.
"I've been playing since I was a boy," he said.
The couple has served as home-based missionaries for as long as they can remember. And Farias still plays his guitar and goes out to minister prisoners in Pendleton, Ore.
"I will be (playing and ministering) until God says I'm done," he said.