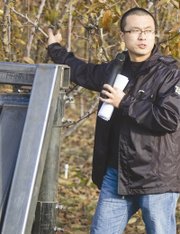 PROSSER - Washington State University researchers held the annual cherry informational sessions last Thursday and Friday.
The meeting served to inform industry representatives and research team members of the progress on research to increase effectiveness when growing and harvesting cherries.
The research team at the WSU-Prosser campus is halfway through a four-year research project funded by the USDA.
Matthew Whiting, an associate professor and researcher in the department of horticulture and landscape architecture, said the meeting provided an opportunity to hear from industry representatives and to further the progress of the research project.
Austin Zhou, a graduate student of WSU-Prosser and a mechanical harvest researcher, showed participants a prototype of a mechanical harvesting machine. The machine sent vibrations along the cherry trees in order to shake the fruit off the limbs. Researchers hope this machine will work, making the harvest season more efficient.
Whiting said cherries ripen and mature so quickly that often growers are left shorthanded during the harvest season.
"We're looking at a real labor crunch," Whiting said. "We are looking at developing new systems like this (to assist in harvest efficiency)."
Whiting also spoke with attendees of the meeting about a new orchard architecture creating a compact fruiting wall with a single layer of wood and fruit.
"This type of architecture would allow the plant to grow with only the strongest limbs, with the hopes of the best fruit produced," Whiting said.
Nearly 50 participants showed for the tour at the WSU experiment orchards in Prosser.