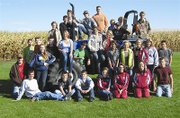 FFA is flourishing again at Sunnyside Christian High School with 33 students, one of the largest FFA groups the school has ever had.
The group participated in the Central Washington State Fair in September and has several more events planned for the future.
The FFA president is Sabrina Mensonides, with Alexandra Newhouse serving as vice president, Hilary Bangs as secretary, Betsy Knotts as treasurer, Maddy Wavrin as reporter and Billy Van Wingerden as sentinel.
At the Central Washington State Fair the SCHS tractor driving team received fifth-place honors out of 20 competitors. The students involved in tractor driving were Levi Puterbaugh, Drew Puterbaugh, Darren Broersma and Ian Heffron. Sunnyside Christian FFA member Levi Puterbaugh was seventh in tractor driving in the individual rankings.
The group also captured first place honors for livestock judging in class four and garnered an eighth-place finish in horse judging.
In dairy judging the team was 22nd out of 32 teams. Alex Prins in the individual judging received seventh-place honors out of 160 competitors.
The SCHS horse judging team consisted of Ethan Househoulder, Josh Anderson, Kara den Hoed, Maddy Wavrin, Grace den Hoed, Josh Stein and C.J. Dalrymple.
Sabrina Mensonides, Hilary Bangs, Betsy Knotts, Jenna den Hoed, Billy Van Wingerden, Alex Newhouse, Mckenzie Benjert, Brant Bosma, Lisa Leyendekker and Cody Alvarado were all involved in livestock judging.
Those involved in the dairy judging were Trevor Wagenaar, Matt DeGroot, Nate Van de Graaf, Collin Householder, Danika De Groot, Rita Dalrymple, Tad Tyhuis, Alex Prins, Melissa Dalrymple, Darren Broersma, Nate Scheenstra and Drew Scheenstra.
The FFA group's future events include the Central Washington Jr. Livestock Show in Toppenish, the Farm Olympics and an entry in Sunnyside's annual Lighted Farm Implement Parade.