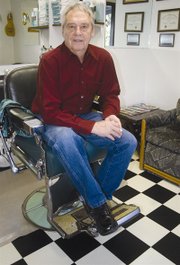 With the economy taking a turn for the worst, Jim Miller of Sunnyside decided to take action and stay ahead of the curve.
As a long-time barber in the area, Miller opened his very own shop, "Jim's Barber Shop," in his home during the latter part of his career. He ended up cutting hair for more than 30 years.
For the last six years, retirement was his life; but with rising costs on absolutely everything Miller says "why not offer cheaper priced haircuts?"
"I'm going to charge just $8 a head," he added.
The shop is an extension of his home, complete with a chair, rinsing sink and waiting area. Customers can pay with either checks or cash. Not only does he specialize in barbering, Miller also offers hot leather neck shaves.
Located just five miles south of Sunnyside's Les Schwab Tires towards Mabton at 450 McGee Road, Miller plans to be open Tuesday through Friday from 9 a.m. to 5 p.m. for walk-ins or appointments. Saturdays the shop will be open from 10 a.m. to 2 p.m. by appointment only.
The shop officially opens for business on Tuesday, Nov. 29, at 9 a.m.
To schedule an appointment, customers can call (509) 894-4226.