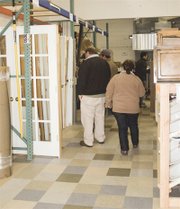 Residents of the Lower Valley will no longer have to travel to Yakima to take advantage of Habitat for Humanity's ReStore.
The Sunnyside ReStore celebrated its grand opening last Thursday, Nov. 17. The store sells building supplies that have been donated by the community and helps to support local Habitat for Humanity efforts.
The Sunnyside ReStore has been in the works for several months. Volunteers have fixed up the building, which was in pretty bad shape, and now it boasts a main floor for shopping and a basement for sorting out and preparing donations for sale.
Donations coordinator Ashley Burk said the store will be open for purchases Thursday through Saturday, 9 a.m. to 5 p.m., but will be accepting donations Tuesday through Saturday.
The store currently has five regular volunteers. "High school students can volunteer and get their hours here," said Burk.
The opening of the store will help Habitat for Humanity's efforts in the Lower Valley. Gloria Garza, Families Coordinator, said they are currently accepting applications from families in Sunnyside, Grandview and Mabton who want to take part in building their own Habitat for Humanity home.
Burk said they are thinking of having a 'Fill the ReStore Day' to get more donations. But in the meantime the store has plenty to choose from. "Our stock changes constantly," said Burk. "Just come in and see."