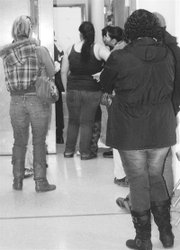 Many people are still unemployed, and local food banks are feeling the effects.
Helaina Meyers, director at the Sunnyside Adventist Community Center Food Bank, says the facility is receiving nearly 25 new clients each week. That's in addition to the regulars that total nearly 150 clients each week. In addition, the food bank tallies nearly 10 'emergency' food boxes for clients who cannot readily prove their residence in Sunnyside. Those clients receive one box of food to get them by before they are required to prove their residency in Sunnyside.
"Our donations are way down and we are seeing an increase in people," she said. "We are trying to do our best to make sure everybody has food."
In years past the food bank distributed turkeys to each family for the Thanksgiving holiday, but this year families were given frozen turkey and gravy meals.
"We try to do the best we can," volunteer Velda Crane said.
The sobering facts
The Washington State Employment Security Department released Yakima County's October unemployment rates yesterday, Nov. 22, which showed an estimated 8.4 percent of the population is out of work. In Yakima County, approximately 10,800 people were reportedly unemployed during the month of October. The total number of people unemployed in Yakima County is nearly 1,240 more this year than was reported for October 2010.
These numbers, however, do not include seasonal workers who are now unemployed due to the end of harvest or poor outdoor working weather.
The good news is, however, that agricultural jobs have seen an approximate 13.4 percent increase from last October. That's according to Don Meseck, a regional labor economist for the employment security department. But because there were less non-agricultural related jobs this October compared to October 2010, the county's unemployment rate still saw an increase.
"Non-farm jobs were down substantially and the increase in (agriculture) jobs wasn't sufficient enough to offset the unemployment rate," he added.
Unfortunately, says Meseck, because agricultural jobs are mainly seasonal, of the reported 38,300 people who had jobs this summer, nearly 24,500 are now out of work until next harvest season.
Statistics hit home
Two clients who also volunteer at the Sunnyside Ministerial Association Food Bank feel the effects of seasonal summer work at a standstill.
Ruben Roman, a farm laborer, and Tracy Watson, a construction worker, are both between jobs and do what they can to get by. And every little bit helps. Between looking for side work and additional income, Roman and Watson also do what they can in their free time to give back. Both are volunteers at the food bank which helps fill their pantries in hard times.
While juggling personal struggles and economic hardship, Watson is also struggling to feed his two children. He says the little income he does receive through state help is just enough to cover living costs. But he comes to the food bank and is able to feed his children. In his spare time he feels the urge to give back.
"I just feel blessed that I have friends here (at the food bank) that let me help," he said. "It feels good to give back a little and it's very rewarding."
What can be done?
According to food bank volunteer Roma Frances, the Sunnyside Ministerial Food Bank sees 100 people each week and donations, too, are down at this facility. Frances said any and all donations of funds, food or time, no matter how small or large, are appreciated "...because every little bit helps," she said.
Food bank volunteers urge the willing and able to contact their local food bank to see what can be done to offset this economic crisis.