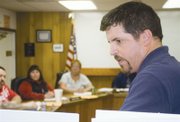 MABTON - The City of Mabton could have the "Seventh Avenue project" repairs done as early as September 2012.
Gray and Osborne engineer Scott Smith presented preliminary plans to increase safety at Seventh Avenue in Mabton at last night's (Tuesday) regular city council meeting.
Smith said the foundation of the project was to increase safety near Artz Fox Elementary School. Currently, he said, the parking and congestion while loading and unloading students is a safety hazard for students and pedestrians.
The project will be completed via a Transportation Improvement Board grant issued through the state, totaling more than $560,000.
Consultants at Gray and Osborne say currently, parking along the street is perpendicular.
"What we are proposing is parallel parking," Smith said.
Parallel parking will still leave 32 parking spaces for area residents on Seventh Avenue between Washington and Adams streets. The team also proposed adding a planter strip along the roads to eliminate traffic on sidewalks.
With this project, the team hopes to reduce congestion and increase safety.
Gray and Osborne has already begun preliminary work by sending letters to adjacent homeowners. They hope to have the job advertised for bids in early January 2012, and if all goes according to plan the project can begin construction near the end of the school year.
Smith says the project should take an estimated 110 working days.
Preliminary plans, however, are still in progress and the team hopes to finish the project between the school's summer break.