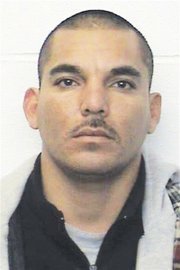 Sunnyside police believe that Raul Bojorquez Garcia entered a residence of his ex-girlfriend this morning (Friday) and stabbed both her and her current boyfriend multiple times.
This morning at approximately 6:15 a.m., Sunnyside police officers responded to a report of a stabbing in the 1500 block of Irving Avenue. Both victims were transported by ambulance to Sunnyside Community Hospital where they are being treated.
In precautionary measures the hospital elected to go to a state of lockdown.
"In cases like these we want to make sure everyone is safe," hospital representative Tom Lathen said.
Lathen said the lockdown didn't necessarily mean hospital patients and employees were in harm's way, but hospital personnel wanted to take all precautions. Lathen said the lockdown was lifted as of 9 a.m. this morning.
According to officers the male victim sustained severe lacerations to his face and the female victim sustained multiple stab wounds to her body.
Related to this incident, officers responded to a hit-and-run accident last night (Thursday) where the suspect hit the victim's car and fled the scene at approximately 6 p.m. No one was reported injured at that time.
At about midnight last night (Thursday) the suspect allegedly hit the victim's unattended vehicle while parked at her residence and again fled the scene.
Sunnyside police are actively looking for the 30-year-old Garcia on the probable charge of attempted murder.
Officials say he is believed to be driving a white, mid-90's Mercury Cougar.
Police encourage residents with information regarding the whereabouts of Bojorquez Garcia to call (509) 836-6200.