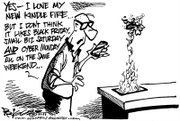 I'm not much of a shopper. I see frenzies of shoppers on Black Friday on TV and can only thank goodness that I'm not into anything so much that I would wade into that mess.
I did "do" Black Friday once. I didn't camp out and go for a doorbuster. That seemed a little extreme. But a computer store had a good deal on a component I wanted, so I went down on the Friday after Thanksgiving to see if I could get one.
The parking lot was filled, and finding a spot was not easy. I parked so far out that it seemed like I would have gotten to the store quicker if I'd just walked from home.
Once inside, the crowds were disturbingly thick. Fortunately for me, the computer piece I wanted wasn't in the sections being mobbed, and I was able to find it and get in line fairly quickly.
The line was another story. It wound throughout the store, snaking around displays and blocking traffic. It moved at a decent clip, but I spent more time in the line than I did looking for the item itself.
Eventually I made it to the front of the line and paid for my tiny purchase. Tiny compared to the huge bundles everyone else was bringing up full of games, DVDs and other gadgets. I must've looked a little pathetic with my single item.
Leaving the store, on the long walk back to the car, I reflected on the experience and decided that it wasn't worth it. Sure, I'd gotten a fairly expensive item for more than half off, but I'd wasted several hours and endured crowds, traffic and long lines to do it.
Perhaps if I'd been able to get more stuff I might have been more impressed, but I don't think so.
I remember the day after Thanksgiving as being a day to rest. I remember board games, hot cocoa and family.
Now it's something different. It's a shopping nightmare, and one in which people have died, trampled to death in frantic crowds.
The sales are tempting, with deals on expensive items that a person won't see the rest of the year. But the trade-off is stress and frustration.
Doorbusters are incredible offers, but they are limited. Even if a person does camp out, that's no guarantee of getting that sweet deal. Waiting for hours for a great deal is annoying enough. Waiting for hours and not getting the great deal is too much.
With stores opening earlier and earlier to try to draw in the crowds, the shopping is eating into the holiday. Retail employees aren't even getting a full day off. At this rate, Black Friday will be on the Tuesday before Thanksgiving by the end of the decade.
Only the stores can stop the madness, and they won't unless the bottom line demands it. If a death by trampling couldn't halt the insanity, not much else will.
So I'll pass. I won't be shopping today. I'll stay away from the crowds as much as I can. I wish those who brave it luck and safety, but for me... pass the cocoa and let's pull out a board game.