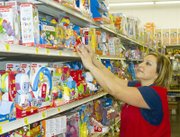 After 17 years of getting up early to make tortillas at a grocery store, Rosa Ruiz is delighted with the more reasonable hours at Bi-Mart.
Ruiz moved to Eastern Washington as a child, from California. Her mother was a farm worker, and the family spent time in the Yakima Valley and the Columbia Basin.
Settling in Sunnyside, Ruiz worked in a grocery for 17 years as she raised three children. Five years ago she was hired at Bi-Mart.
"The hours are great, the people are great," Ruiz said. "I like working here."
Within a year she had worked her way from cashier to the hardware department. A year and a half later she became department manager.
"I wasn't sure," Ruiz said, adding that her boss said to just give it a chance. She's been running the department since, learning on the job.
"Those five years went by quick," she said.
Ruiz likes Sunnyside, and said she wouldn't live anywhere else in the Lower Valley. She likes the sense of community and the familiar faces.
"Some way or another, everybody's connected," she said of Sunnyside. "Family connections, work connections, we all are connected."
She admits to some uncertainty about the town with some of the current problems, but she believes in the community here. "Sunnyside is ok," she said. "It's what you make it to be."