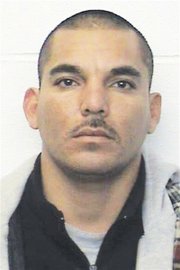 Sunnyside police are still seeking information regarding the whereabouts of Raul Bojorquez Garcia, 30, who is believed to be responsible for stabbing two Sunnyside residents last Friday morning.
The victims, Garcia's former girlfriend and her current boyfriend, were both stabbed multiple times last Friday morning while at a home in the 1500 block of Irving Avenue.
The male victim, said police, was treated for his wounds and released from Sunnyside Community Hospital. He suffered severe lacerations to his face.
The female, however, was transferred to an undisclosed hospital for further treatment. She sustained multiple stab wounds to her body.
Garcia, said police, is wanted on requested charges of attempted murder. He is believed to have been driving a white, mid-1990s Mercury Cougar.
Anyone with information regarding his whereabouts is urged to call the Sunnyside Police Department at 836-6200.