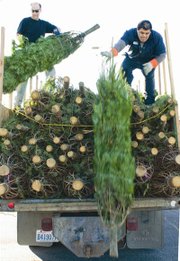 Just in time for the Christmas season, Cornerstone Assembly of God in Sunnyside is offering Christmas trees for sale.
The sale features both Noble and Douglas fir trees. The trees can be found in the vacant lot next to Noble's Furniture at 717 Yakima Valley Hwy. in Sunnyside.
Maria Garcia is one of the organizers of the tree sale, and she says more than 300 trees have been ordered and were received last Friday for the sale. She notes there is a tree for every budget, ranging in price from $15 to $50.
Garcia says Cornerstone holds the tree sale each year as a way to raise funds for its outreach into the Sunnyside community.
Proceeds from this season's sale, she says, will benefit the church's outreach ministries that include helping youth, helping those in need during the winter months and participating in the National Night Out event.
Cornerstone Assembly of God will hold the Christmas tree sale daily from 10 a.m. to 9 p.m.
"We'll be there until the trees are gone," said Garcia.
The church is located at the corner of Fourth Street and North Avenue. For more information about the church, its ministries or the tree sale call 837-4451.