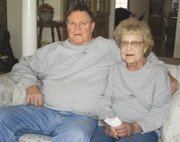 Jean Middleton was fit as a fiddle one day and the next she suffered a major heart attack. The Sunnyside resident says that attack back in 1983 is when her heart troubles began.
She was 48 when she had her heart attack and five years later doctors told her there was nothing more they could do for her.
She ended up on the list for heart donor recipients and just two months later she and husband Jack were in Seattle for a heart transplant at Harborview Medical Center.
The Middletons had been told it would be several months, maybe a year, before Jean would receive a heart. She said the donor match was based on a list, but also in matching the size of the donor heart with the recipient, as well as blood type.
Jack noted that rules at that time required those in the heart donor program to live in close proximity to the location of the heart surgery.
As a result, Jean and some of the family moved to Seattle, while Jack stayed behind in Sunnyside, where he at the time was the superintendent for the Sunnyside School District. Jack made the trip over to Seattle on the weekends.
"I'm proud of the way our family came together," says Jack, who noted their children juggled jobs and families to spend as much time as possible with Jean leading up to her heart transplant. He said some family traveled from as far away as North Dakota to be by Jean's side.
As it turned out, it's good that Jean didn't have to wait any longer for the heart transplant, as doctors told the couple her heart was in such bad shape that it was about to give out.
Jean said the heart was so weak that it was all she could do just to sit up.
That all changed with the transplant.
"I felt like I'd died and gone to heaven," she said with a big smile. "I started feeling better right away."
That's not to say the heart transplant didn't come with some strings attached. To this day, for example, she has a daily medication regimen she has to follow to ensure her body continues accepting the heart transplant.
"We don't have the luxury of running out or missing a day," Jack said of the medication. He noted there have been some close calls over the past 20-plus years. Some so close that Jean had to be taken to a hospital to receive the medication because she had run out.
Over the years Jean's been able to have a full life with the heart transplant. That includes trips outside of the area. There have been some difficulties along the way, to be sure, such as a broken back suffered on a trip to Colorado and a pacemaker that she received in 2000.
Through it all Jack is by her side to support her. "My job is to be here when and if an episode starts," he says.
Jean has much to be thankful for during this time of giving thanks, but Jean says one of the things she's most thankful for with the extra years she's been given is the opportunity to see more grandchildren. "We had two when I had the surgery and we have seven now," she says.
The experience has also left her grateful for the advent of organ donations.
"Our daughter was on her way to work when she heard on the news that there had been a 17-year-old girl on a bicycle who was hit by a car and died," Jean recalled. That girl happened to be a multiple organ donor and it was her heart that became Jean's.
"It's great, I feel I was lucky," Jean says of receiving the teen's heart.
Not surprisingly, she and Jack today are organ donors. "I think it's a good idea," she said in encouraging others to become organ donors.
Whenever the time does come for her to pass, Jean is willing to help others just as she was helped by an organ donor. "They probably won't take my heart, but they'll take everything else," she said.