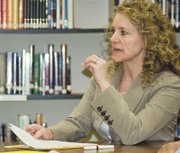 GRANDVIEW - Grandview's three elementary schools are working together to improve education for students and teachers.
A.H. Smith Elementary, Harriet Thompson Elementary and McClure Elementary schools have partnered together to increase test scores, students' comprehensive learning and parent involvement.
Officials from the three schools gave a detailed report of their plans for success and to keep up adequate yearly progress to the school board at Monday night's meeting.
Harriet Thompson Elementary Principal Julie Wysong said data collected isn't "just" numbers to the three schools' staff. Test scores are compiled into data to show where the schools are excelling and where they might need work, but these three schools are looking beyond the numbers and data charts.
"We look deeper than the numbers, to names and faces," she said.
All three principals visit classrooms on a regular basis and say teachers are ever more willing to invite consultants and school officials into the classroom.
"They are asking for help and that's showing the kids it's ok to ask for help," A.H. Smith Elementary Principal Jared Lind said.
All three schools reported math scores have been up although reading has been down.
"When we (just) focused on math, reading (scores) suffered," Lind said. "But this year we are going to keep the focus on math and reading together."
But reading isn't "just" reading any more for Grandview elementary students.
"We are focusing on literacy," McClure Elementary Principal Jose Rivera said.
Literacy to these principals means that students are actually learning and understanding what they read.
"We are having even the (kindergarten) students read a text, and then write out what they took from the reading," he added.
Math and writing scores have seen a steady increase, while reading hasn't increased much, or in some cases at all.
In 2006, Harriet Thompson fifth graders showed 10 percent passing in the writing portion of a state-wide test. The 2011 results proved more than a 20 percent increase. Math saw the same, with 32 percent passing in 2006 and 57 percent passing state standards last year.
Reading, however, saw a decrease. The school had 52 percent passing in 2006, while last year 44 percent made the mark.
The scores are similar in each school's situation, according to Lind. And the teachers aren't taking the news sitting down.
"We have some of the best teachers around," he said. "They aren't waiting around to be told what to do; they are seeing the issues and going after them."
All three elementary schools also reported parent involvement at an all-time high with parent-teacher conferences showing nearly 96 percent in attendance.
Superintendent Kevin Chase commented that the schools' consultants are due big thanks as well.
"They are why we are succeeding at this rate," he said.
The principals agreed the most recent math consultant has worked hands on, just like the new model had hoped; moving from numbers on data charts to seeing children's names and faces.
The school board congratulated the team of principals and approved their school improvement plan for the 2011-12 school year.