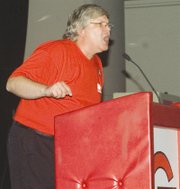 More than 100 Sunnyside teachers on Monday joined teachers across the state in a day of action against the cuts to education that have been proposed by Gov. Chris Gregoire in order to balance the budget.
Teachers, wearing red for solidarity, were joined by parents, students, school board members and school administrators in a gathering at Sunnyside High School yesterday afternoon. The rally started outside the high school with teachers and their supporters carrying signs asking the legislature to not cut education funding.
The rally then moved indoors to the auditorium where teachers were given stamped postcards on which they could write comments to local legislators.
Sunnyside Education Association leader Dan Thomas spoke to the crowd about the proposed cuts, from the suggested removal of levy equalization funds to the idea of reducing the school year by five or 10 days.
Thomas then introduced Sunnyside School Board Director Miguel Puente. He reiterated Thomas' remarks, encouraging attendees to talk to others and use the postcards.
Superintendent Dr. Rick Cole was the final speaker, and his main goal was to explain what the loss of levy equalization funding will do to the district. He indicated how many people were in the crowd then said, "We would have to cut 90 people, that would be almost everyone in this room."
Cole also pointed out that districts like Bellevue can tax at a rate of $1.20 per $1,000 on property taxes and end up with $3,000 per student. To match that, Sunnyside would have to tax at $15.25 per $1,000. "I don't know how long you've lived in Sunnyside," Cole said, trailing off to laughter.
He said such a tax cannot happen in Sunnyside, and levy equalization funds is how the district makes up for that difference in funding.
Cole played a portion of a video in which he explains levy equalization to legislators and asks if school security should be considered basic education. He also encouraged teachers to express their own opinions to legislators, "but not on school time."
The rally was part of a statewide effort by the Washington Education Association to bring the proposed funding cuts to education to the forefront. Teachers in Mabton went to the school board meeting last night dressed in red, while west side teachers made the trip to Olympia to protest at the capitol.
After the meeting, Dr. Cole said he was impressed with the turnout at the rally. "This is an issue that will affect the whole lower valley," he said.
Washington Elementary teacher Beth Martin had a more personal viewpoint. "These cuts are scary for educators," she said. "A cut in days will be a hardship for many of us. We haven't been getting cost of living increases, and prices just keep rising."
She sighed as she watched people leave the rally. "I'm going to have to find a second job just to get along."