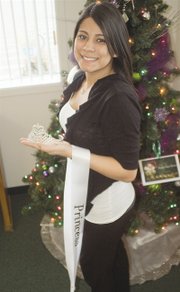 Familiar with both pageants and an inherent need to help others, choosing her senior project was a no-brainer for SHS student Amanda Villarreal.
When she served on the Miss Sunnyside court last year, the court helped with a Wylie House and Lower Valley Crisis and Support Services event. She got a wake-up call.
"We (the court) did a walk with the Wylie House to raise awareness about domestic violence," she said. "It was then that I realized they (the Wylie House clients) need a lot of help."
The SHS student decided to combine her love for pageants and her desire to help others in order to complete her senior project.
The "Crowns of Faith" benefit pageant will be held at the Sunnyside High School auditorium tomorrow (Thursday), Dec. 1, at 6 p.m.
The pageant will have six age groups with participants ranging from ages 3 to 18. Participants will compete in three categories that include casual, formal and holiday wear. In addition, they will each answer an impromptu question.
Each participant paid a fee of $15 and donated one coat.
"(The Wylie House) needs a lot of things, but the biggest need right now is coats," she said. "One coat will keep a child warm all winter."
Admission to the pageant is free with a donation of a non-perishable food item or a coat. Also, monetary donations of any size are welcome.
Each participant will walk away with a prize and a title, says Villarreal.
"I just want to show the girls their natural beauty," she said.
In addition, all pageant participants will be seen at Saturday's Lighted Farm Implement Parade in downtown Sunnyside.
When choosing a name for the pageant, Villarreal says her inspiration came from her church.
"My pastor inspired me to help the community," she added.
It was clear for Villarreal; "Crowns of Faith" was the perfect fit.
She began the campaign to gain participants for the pageant with a Facebook invitation. And now more than 20 girls have signed up.
She also started recruiting sponsors to donate funds for pageant supplies, including crowns, sashes and "goodie bags." Nearly $250 in donations from area businesses and individuals have poured in to help get the pageant going.
"But we still need about $200 more to get the project done," she said.
Villarreal says her mentor and SHS teacher, Terri Alvarez-Ziegler, helped her search online for the best prices on supplies.
Villarreal says 100 percent of donations will be directly given to the Wylie House.
For more information on how to help, contact Villarreal at (509) 305-0515. She is available for calls after 3:10 p.m. and is always available by text message.
"Everything helps," she added.