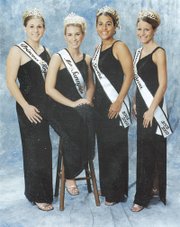 She's had two books published this year and is contracted for several more to be released in December and the spring of 2012.
Former Miss Sunnyside Rachel (Jacobson) Van Dyken found her true calling when she began writing books to deal with the emotions associated with serving as a counselor to children in grades K-8.
Van Dyken earned a social sciences degree with a minor in Spanish. She pursued an MBA at Northwest Nazarene University in Nampa, Idaho and began working with youngsters.
"Although I loved the work I didn't want to do it for the rest of my life," she said, stating she has a tendency to want to help others, but was limited as a counselor.
"I began writing to vent my feelings," said Van Dyken, stating she felt there were many aspects of life that were out of control.
During the course of a year, she wrote seven manuscripts and decided to seek out a publisher for her first book, Every Girl Does It.
Van Dyken said she submitted the manuscript to two publishing houses, one of which was newly established. That began what has become a whirlwind of sudden success for the young author.
Astraea Press, established last year, was willing to help Van Dyken hone her skills. "I didn't have an agent," she said.
The editors cleaned up the manuscript and taught Van Dyken the finer points of polishing the book for publication. "They heavily edited it, which was difficult at first," she said, adding, "It was meant to help me learn the process."
She said she didn't know how to pitch her book and was new enough to the process that Astraea Press' help spurred her on.
"When they accepted the book, I jumped up and down, and screamed," said Van Dyken.
She said the publishing house kept her updated on how well the book was selling once it was released, but Every Girl Does It was doing well enough the publisher wanted more from Van Dyken.
She quickly provided them with a second book, The Ugly Duckling Debutante. That book has far surpassed the publishing house's expectations, having only been released this past September. It was listed at a high point as No. 2 on Amazon.com and just last Wednesday USA Today listed it on its bestsellers list.
Van Dyken said she believes the second book's success is due to its reading audience. It's a historical contemporary fiction novel set in the Regency period. There are inspirational elements, but unlike her first book, it is not classified in the Christian genre.
"I don't believe faith must be limited to the Christian market...I wanted to reach a broader audience," said Van Dyken, stating the romance novels she writes do not contain erotica.
"The excitement is insane," she said of her success. "I'm still feeling as if I'm living a dream."
There have been a few critics of her writing and Van Dyken said that has been difficult to deal with, however, she views it as an opportunity to improve her skills.
In addition to the two already released books, Van Dyken has a Christmas novella set to release any day and the sequel to The Ugly Duckling Debutante is set to release in time for Christmas. It is called The Seduction of Sebastian St. James.
Astraea Press has also contracted with Van Dyken for another series, a contemporary romance set in London and Colorado. That series will be entitled "The Vandenbook Series," and is due for release in the spring of 2012.
Van Dyken is pleased with her newfound success, but said, "The life of an author can be lonely and frustrating...right now, I am enjoying the support of everyone, however."
She recently wrote, "Through all of this I've not only discovered my passion, but also learned to recognize that God really does give us the desires of our heart. There are enough people in the world doing things they hate, not enough people do what God created them to do."