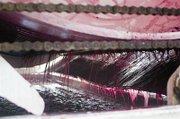 After seeing the giant blackberries produced by Blackberries Jubilee this summer, Randy Tucker decided to try something new with a Cabernet wine.
Tucker added the blackberries to the fermenting process of the Cabernet Franc grapes, resulting in a unique blend that will be sold under the Tucker Cellars label as Black Cab Kiowa Cabernet.
The percentage of Kiowa blackberries to add was determined after a tasting session in which Tucker approximated the taste the new wine using blackberry juice mixed into an existing Cabernet Franc.
The Bardells and Sharpes, owners of Blackberries Jubilee, helped decide on the perfect mix. The result is a red wine with a fruity taste that makes it less dry.
"Most reds are bone dry," said Tucker. "They have a lot of tannins. This wine won't be as dry. The berries will add a good flavor."
Tucker said the process he's using is new, as berry mixes are usually added after the wine has fermented. For Black Cab, the blackberries and grapes fermented together.
After the pressing earlier this week, Tucker said the wine will go into oak barrels to age. A portion will be infused with oak in a different manner.
"For some wines we use oak chips, suspended like tea bags in the wine, to add flavor," Tucker explained. The chips allow the wine to mature in 45 days instead of months.
All of which means people should be visiting Tucker Cellars to get a taste of the new vintage starting in mid-January. In the meantime, the winery has plenty of other varietals to try at their tasting room off Yakima Valley Highway at 70 Ray Rd.