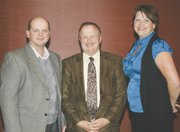 BELLEVUE - For the third time in four years, the Sunnyside School District Board of Directors has been distinguished as an outstanding school board by their peers.
The Sunnyside board was one of 16 school boards from across the state to be honored with a Board of Distinction Award by the Washington State School Directors' Association. The announcement was made Saturday, Nov. 19, at the Washington State School Directors Association annual conference in Bellevue.
The Association's awards program honors school boards that demonstrate effective use of the Washington School Board Standards. The standards promote researched-based governance practices that lead to high levels of student and district performance.
Sunnyside School District was required to submit an essay and supporting evidence to demonstrate how they are putting the new standards into practice.
This year, applicants were asked to address the following benchmarks (one from each of the five standards):
• Ensuring school board and district transparency through a process that is open and accountable.
• Leading the development, articulation and stewardship of a vision of learning that is shared and supported by schools and community.
• Employing and supporting quality teachers, administrators and other staff and providing for their professional development.
• Evaluating the superintendent on clear and focused expectations.
• Ensuring the board is accountable and open to the public, including seeking divergent perspectives in its decision making process.
"We are incredibly fortunate to have a board of directors focused on a vision of success for all students in our district. This award is a testament to the high quality work they engage in as they lead our district toward accomplishing that goal," said Sunnyside School District Superintendent Dr. Rick Cole.
Sunnyside School Board Vice-President Lorenzo Garza said the local school directors were very humbled to have been recognized with the award.
"As a board, and in collaboration with administrators, we have shown serious focus on improving student achievement by engaging our staff, students and community in support of success for all students. We are honored to have been recognized by our peers for that hard work," Garza added.
The board has been previously recognized by the Washington State School Directors Association as a 2008 School Board of the Year and 2010 School Board of Distinction.