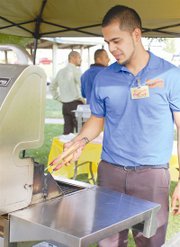 In order to attract developing businesses that may want to expand their brand in the Lower Valley, Pedro Romo believes crime is preventing developers from moving to the area.
"I think (the crime level) is discouraging businesses from coming to this area," he said.
But for now, events like the Business Expo held last Friday at Sunnyview Park, according to Romo, a Farmers Insurance agent in Yakima, says is a good start.
The first-time event drew more than 20 vendors ready to inform residents of their products and services. Sunnyside's Fiesta Foods grilled hot dogs for attendees free of charge, while local insurance agents and banks were present to inform residents of the services available to them. In addition, several other businesses and organizations were present to answer residents' questions and to network with other area businesses.
"(This event) is also for business owners in the area to get to know each other better," Grandview Farmers Insurance agent Silvia Martin said.
Martin says it's important for business owners to know and work with each other, "to have more resources and support."
Golazo, a company that manufactures an energy drink, was present at the event hoping for a particular outcome.
"We are here to promote Golazo, but we are also looking for a sales person to represent the Washington area," street team member Job Romo said.
Whatever the initial purpose for a vendor's attendance at the event, all agree events that draw community members to a healthy and informative environment are good for business and for the community.
But most of all, in order to keep Lower Valley businesses profitable it is up to the community's residents.
"It's very important to shop local," Silvia Martin said.
In addition to shopping locally as opposed to online or leaving town, Martin says the business has the chance to show customers friendly and personable customer service. Shopping local aids in keeping dollars as local as they can get, according to Martin, and that is ultimately what will increase profits in the Lower Valley.