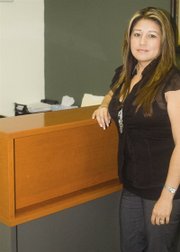 When helping others with substance abuse issues, Maria Elena Guerrero says it must be something you know and are passionate about.
For several years Guerrero worked for the Yakima Valley Farm Workers Clinic as a drug and alcohol counselor. When Casa De la Esperanza at the clinic closed due to state budget cuts in mid-April, Guerrero and her husband Francisco seized the opportunity to open their own drug and alcohol assessment and counseling center in Sunnyside.
Innovation Resource Center opened its doors mid-September for business inside Sunnyside's downtown Mini Mall, located at 214 S. Sixth St., suite #3.
Guerrero said the couple searched for a location for their center in Grandview and in Sunnyside. They eventually chose the location inside the Mini Mall because of its growing visibility and the privacy that the corner suite offers for patients.
Innovation Resource Center accepts patients who are self-referred and additionally those who are court-ordered to seek services.
"The hardest part is to see a patient who is not ready to change," she said. "You can see them struggling and that is hard."
When a patient is court-ordered to seek assessment and treatment Guerrero says some find it difficult to follow the rules set by the court. There are also other issues. For example, if a patient was convicted of DUI and ordered to receive assessment and treatment, but cannot drive to the appointment because his license has been suspended, some may drive anyway, possibly landing themselves back in jail. Others, according to Guerrero, simply are "not ready" to change.
Guerrero says the most rewarding element of her job is to see a patient succeed in their attempt to be free from addiction.
"They may stumble a few times, but in the end when they finally succeed, that's rewarding," she said.
Guerrero, a Sunnyside native, received her Bachelor's degree at Toppenish's Heritage University and went on to receive her Master's in social work at Walla Walla University. She says she wanted to stay closer to home, just like the rest of her siblings.
"I want my daughters to attend school here in Sunnyside too," she added.
Innovation Resource Center accepts court-ordered and self-referred patients Monday through Friday from 9 a.m. to 6 p.m. or on the weekends by appointment.
The center offers assessment, individual counseling, alcohol/drug information schools, intakes, urinalysis testing, group treatment and bilingual services. In addition, the center also allows weekend sessions by appointment. For more information call (509) 836- 2400 or visit www.innovationrc.com.