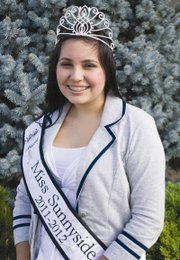 Newly crowned 2011-12 Miss Sunnyside Abigail Ramos barely had time to adjust to her new role before she and her court were off to their first parade.
A week after the court was crowned they were in Yakima's Sunfair Parade.
"It was fun, but it still hasn't hit me yet," said Ramos, who was named Miss Sunnyside just over two weeks ago.
"I was on the float in the parade and had a sudden realization of the responsibility I now hold," she said.
Ramos said she enjoyed attending the Central Washington State Fair following the Sunfair Parade. At the fair she and the court met many people and got a small taste of what it means to represent the community of Sunnyside.
"I realize the responsibility to Sunnyside will last beyond my year as Miss Sunnyside," Ramos said, stating her behavior and attitude is a direct reflection of the community.
She said there is a certain gravity to the responsibility. She wants to be a positive role model and she wants her community to be proud. She wants to be thoughtful of that even as an adult.
"Once you serve as a representative of Sunnyside, you always serve as a representative of Sunnyside," said Ramos.
Beyond that, she is looking forward to her year as Miss Sunnyside.
Ramos said she is going to be in the planning stages of developing her community service project over the next few weeks.
She is planning to develop a youth program with Sunnyside's Promise, helping youngsters discover and develop a sense of self through writing, art, music, dance and theater.
Ramos said, "I'm excited about the project and the positive influence the court has the opportunity to have on Sunnyside's youth."
She envisions youngsters discovering hidden talents they possess...talents that make them unique as individuals.
"You don't have to be an athlete to be gifted with talent," said Ramos, stating there are many different talents that can be discovered through the arts.
"The arts are a way for young and old to express themselves," she said.
Ramos discovered it to be true for herself while attending a summer camp called "Power of Hope." She has attended the camp for a few years and this past summer was no exception.
In addition to summer camp, Ramos spent every Monday this past summer preparing and practicing for the Miss Sunnyside Pageant.
As a candidate she worked on the skit she delivered at the pageant on Sept. 17.
Ramos said the Miss Sunnyside candidates also helped with a yard sale that benefits the Miss Sunnyside program, a blood drive and attended the Grandview Community Parade.
Ramos also spent the summer working and attending summer school classes that she needed in preparation for college.
"It was a busy summer," she said.
The experience of spending time with the Miss Sunnyside candidates was an opportunity to learn more about her classmates.
"We have become more like family to one another," said Ramos.
She said she wasn't very familiar with many of the candidates prior to this year, with the exception of 2011-12 First Princess Geordan Skyles with whom she spent her fifth grade year.
"Several years lapsed, though. So many things change over the years, it was nice getting to know her again," said Ramos, stating she is looking forward to time with her princesses.
She said, "I'm excited about the opportunity to grow closer to Geordan, Kayla (Amaro) and Cheyenne (Schultz)."
Ramos describes Amaro as poised and confident. "She amazes me with her elegance," she said.
Schultz, said Ramos, is outgoing and witty. "She's quick to make us laugh."
As for Skyles, Ramos said she admires the princess' ability to use common sense.
"She's really smart and knows how to represent herself."
Yes, Ramos has a lot of reflection on the months that have passed, but she also looks to the future as a new adventure, a new chapter in her life that she is anxious to discover.