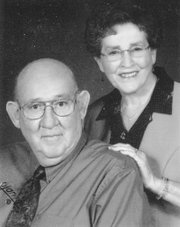 Walter and Elsie Bell will be celebrating their 50th wedding anniversary on Thursday, Oct. 13, of this year.
Walter Bell met Elsie Schut when they were working in the same office building, for different companies. They were married Oct. 13, 1961 in Sunnyside, and have stayed here since.
Mr. Bell grew up in Texas and was visiting his parents, who worked at Hanford when he decided to find a job and stay. Mrs. Bell was born in Yakima and moved to Sunnyside when she was eight years old.
Both of them are retired now, Mr. Bell from being self-employed as a CPA doing business as Bell and Bridges, CPAs in Sunnyside. Mrs. Bell was an office worker until she retired.
Mr. Bell has a passion for racehorses, and the couple still own two horses although he's no longer able to take care of them himself. Mrs. Bell keeps herself active in church.
The couple raised two sons, and now have three grandsons.
To celebrate the anniversary, a reception will be held on Saturday, Oct. 15, at United Methodist Memorial hall in Sunnyside from 2 to 4 p.m.
Photo courtesy of Elsie Bell
Walter and Elsie Bell are celebrating 50 years of marriage with a reception at United Methodist Memorial Hall in Sunnyside on Saturday, Oct. 15, starting at 2 p.m.