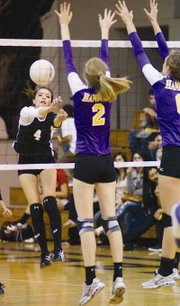 In what may have been its best match of the season, the Sunnyside Lady Grizzly volleyball team rallied from a 2-0 deficit last night, Tuesday, before falling 3-2 to visiting Hanford.
After losing the first two games 25-15, 25-10, Sunnyside rebounded with 26-24, 25-21 victories to force a fifth and deciding game.
The Falcons finally got the upper hand for good in the finale with a 15-2 win.
"We missed a couple of serves early on and couldn't really find our rhythm," Coach Sandy Jaquish said of game five.
But the good news last night was the late match spark his squad found when down 2-0.
It all started with the Lady Grizzlies pulling out that 26-24 win in the third game.
"The key there is we didn't let them go on any long scoring runs," Jaquish said of play against the Falcons. "We were playing with them and shut down their long serving runs. We were making shots and good plays on defense."
That set the stage for Sunnyside's equalizer in game four to knot the match at 2-2.
"We just came alive and played some great volleyball," the coach said. "We started attacking them instead of them attacking us. There were some worried looks on the faces of the Hanford players in that fourth game."
Jaquish singled out some individual players for their role in tying the match.
"Maddy Marquez played some smart volleyball, Kendall Platsman was big at the net and Kiana Ramos had a ton of digs," he said.
Besides his team's play, Jaquish was tickled by the fan support last night.
"I want to thank the fans, it was exciting to get the fans involved," he said. "It was a good night of volleyball except we didn't get the win."
Sunnyside (0-9) hosts Southridge this Thursday.