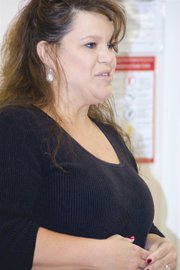 The Sunnyside Chamber of Commerce has been in existence almost since the city of Sunnyside was incorporated.
Executive Director of the Sunnyside Chamber of Commerce Pam Turner presented key roles the chamber plays in the community at Wednesday morning's Daybreak Rotary Club meeting.
Through years of history, Turner explained the vital role the chamber played within the city's development. The chamber has advocated for its members and the city itself, according to Turner, by placement of irrigation canals, highways and bridges in the area.
"In the late 1950's chamber member Richard Golob spearheaded the effort to form a port district in Sunnyside," she said.
Today the chamber is widely known for its events in the community, such as the annual chamber banquet, Spirit of Sunnyside awards, and the Cinco de Mayo, Sunshine Days and lighted parade festivals.
There are also many events throughout the year that the chamber partners with other city groups, such as National Night Out. Turner said to make this all possible several things are needed: membership, fundraising and utilization of the hotel/motel tax.
Turner said with the funds generated through membership, fundraising and taxes the chamber is able to help bring more commerce to the city.
The next chamber sponsored event, the lighted farm implement parade, is set for Dec. 3. For more information on the Sunnyside Chamber of Commerce visit www.sunnysidechamber.com, or call (509) 837-5939.