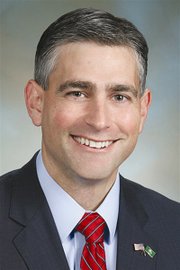 Washington State Sen. Michael Baumgartner has already had an expensive campaign against a Democratic incumbent, and now he's going to take on 12-year U.S. Senate veteran Maria Cantwell in a bid to represent Washington state in Washington D.C.
As a freshman state senator after a hard-fought campaign, Baumgartner did not rest on his laurels, but sponsored bills that made it into law despite being in the minority party, including a bill to reorganize and streamline state government.
"I got into politics because I'm interested in solutions," Baumgartner says. "I believe in bi-partisan efforts and have worked to reach across the aisle in my time in the state senate."
Baumgartner currently represents the Sixth Legislative District in Spokane and is on the Senate Economic Development, Trade and Innovation Committee, the Senate Higher Education and Workforce Development Committee and the Senate Ways and Means Committee.
He was born in Pullman and went to high school in Spokane. He graduated from Washington State University in 1999 with a degree in economics and minors in mathematics and French. He also holds a Master's in public administration in international development from Harvard University and taught economics at Harvard as a teaching fellow.
Before running for office, Baumgartner served as a State Department diplomat in Iraq and a civilian contractor in counternarcotics in Afghanistan. He is frequently invited to lecture to the military on the economics of counterinsurgency.
During his time in Afghanistan, Baumgartner met his future wife, a former investigative journalist and counternarcotics specialist and native of England. They were married last year and now have a young son.
Baumgartner says he is very concerned about the direction of the country. "Politicians are putting us on the path of decline," he says.
"We need to have officials who have competency and insight in foreign policy, regardless of political party."