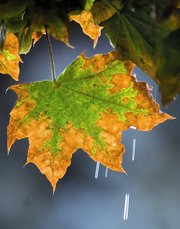 The Washington Department of Ecology is asking people to not give in to the temptation to burn vegetation outdoors.
Wherever people live, it is better for the air everyone breathes to choose alternatives to burning - like chipping, home composting or hauling to a composting facility.
Much like cigarette smoke, the smoke from burning leaves, grass, brush and tree needles can cause asthma, emphysema, bronchitis and lung cancer. Poor air quality most harms children, the elderly and people with breathing problems.
When left unattended, yard waste fires can spread out of control, damage property and threaten people. Responding to such fires drains the resources of fire agencies and can result in penalties against whoever is responsible for the blaze.
In most areas of Washington, residential outdoor burning is permanently banned to protect people from breathing harmful smoke and to prevent fires from spreading out of control. And it's illegal everywhere in Washington to burn garbage and use burn barrels.
People who live in a rural area outside of an urban growth area should always check with their local fire district before burning. They should also check with the local regional office of the Washington Department of Ecology (Ecology) or the local clean air authority for burn permit requirements.
Ecology's "Be the Difference, Breathe the Difference" campaign aims to help people learn how to manage yard waste, tree trimmings and land-clearing debris.
A visit to the Air Quality Program's website can show what to do instead of burning. The site also includes a clickable map showing sites for disposal of yard waste.
The ban on residential outdoor burning does not extend to agricultural burning. In Washington, Ecology's smoke management program oversees burning on agricultural lands. The Washington Department of Natural Resources oversees forest burning.