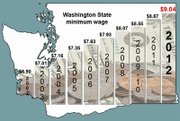 The minimum wage in Washington state is scheduled to rise from $8.67 an hour to $9.04 an hour starting Jan. 1, 2012, a 37-cent increase.
For a full-time worker at minimum wage, the higher rate will mean about $770 more a year before taxes.
In 1998, voters tied the state minimum wage to the Consumer Price Index for Urban Wage Earners and Clerical Workers via Initiative 688. The new minimum wage is calculated each year by the Department of Labor and Industries based on the increase in the index, which is published by the Bureau of Labor Statistics. In the 12 months since August 2010, the index rose by 4.258 percent.
Washington is one of only 10 states that adjusts the minimum wage based on inflation and the Consumer Price Index. Washington also has the highest minimum wage in the nation, followed by Oregon. In Oregon the minimum wage will rise to $8.80 an hour in 2012.
Locally, the impact on businesses in the valley adds up. Bob Van de Graaf of Bob's Drive-In doesn't currently have any employees working at minimum wage. "I pay workers more to retain the best," he says.
But when the minimum wage hike goes into effect, it does have an impact. "When I hire a new employee, I will have to start them at a higher rate, which may mean that other employees don't get the same raises they would get."
Rob Rice of Valley Lanes has strong opinions on the subject. "Any type of increase in today's economy isn't good," he says. As with other increases in the minimum wage over the years, his business will do the best to absorb the new costs without laying off workers. "We may end up cutting hours or raising some prices, but we will do what we need to in order to stay competitive," he says.
Rice argues the changes will ultimately affect the end consumer in the form of higher prices or poorer service. He also notes that smaller businesses cannot absorb the payroll increases as easily as large corporations. The money he has to meet payroll has not increased at the same rate the minimum wage increases, which means a smaller pool of money with which to hire and retain employees.
Another problem with Washington's current minimum wage laws, according to Rice, is that when the Consumer Price Index goes down, as it did in 2009, that reduction is not figured into the next positive change, meaning the minimum wage will sometimes rise faster than the index.
In 2008 the index was at 215.2, but dropped in 2009 to 211.1. In 2010 the index was at 214.2, still lower than the 2008 index, but Washington's minimum wage still went up 48 cents between 2008 and 2010, because the minimum wage is tied to the percentage of change in the index not directly to the index itself, and cannot be lowered even if that percentage of change is negative.
But minimum wage workers, by and large, are pleased with the change. Martha Ponce, currently going to school full-time but recently a minimum wage worker, thinks the change is for the better. A single mother of four, she says she could live on nine dollars an hour with the assistance of food stamps.
Ponce is impressed the minimum wage will be over nine dollars an hour. Ten years ago she was a manager making that much. "I thought it was a lot then," she says. "It's not that much anymore."
And while the situation is difficult in the valley, Ponce said it's worse on the other side of the mountains. Working two jobs in Tacoma she was unable to make ends meet despite careful budgeting.
She isn't worried about the possibility of fewer jobs. "It's hard enough to get a job as it is," she says. "Employers know everybody is looking for work, so they don't feel like they have to treat employees as well." Ponce said turnover was high in her recent job, as the working conditions were less than ideal. "A good employer is already paying more than minimum wage, to keep the best workers," she says.
Michael Grindrod, currently working part time at minimum wage to try to make ends meet, is a little more cynical. "That's it?" he says, referring to the raise. He said if his primary source of income was based on minimum wage it wouldn't even be enough to pay off the interest on his debt.
Grindrod points to families moving in with one another because they can't afford to survive on their own as part of a trend. "Anything to reduce costs," he says. "Interest rates on debt kept increasing but wages didn't. Gasoline prices keep increasing, and people need to drive to Yakima to find work."
Grindrod thinks companies are sitting on their profits when they could be paying employees more or hiring more. Increasing the minimum wage only forces companies to pay a fair wage, and doesn't stop them from raking in profits, he says.
Grindrod mentioned a local winery as an exception to that rule. "They paid more than minimum wage, so they kept employees a long time," he says. "And yet they still did great business."