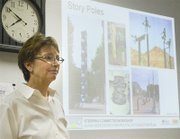 While the first downtown revitalization meeting was energetic and overflowing, the second was equally well attended but a little more sober.
Last night more than two dozen citizens met with the consultants the city has hired to formulate a plan for the downtown core. The main disagreements at the meeting were regarding parking issues, particularly whether or not the city should use parallel parking in the downtown area.
Talk started with attributes discussed in the first meeting and the "Walk and Talk." Colie Hough-Beck of Hough Beck & Baird Inc., a Seattle landscape architectural firm, began the presentation with a summary of what the consultants learned from the first meetings. Of importance to the consultants are the wide streets around Sunnyside's downtown core. With wider right-of-ways, more options are available to upgrade them.
While the group liked the idea of wider sidewalks with trees and room for businesses to have outside activity, the parking issue became a point of contention as soon as it was brought up.
Jeffrey Louman of Huibregtse, Louman Associates, Inc., a civil engineering firm working with Hough-Beck, presented several concepts for changing the street designs in the downtown core, including a half-parallel, half-diagonal parking plan along with an all-parallel parking plan.
Louman pointed out some disadvantages of diagonal parking, including poor visibility while pulling out of a spot and the many large vehicles in the area that, when parked diagonally, can partially block the street. He was countered with the argument that no one knows how to parallel park. One woman complained the changes made to Grandview by the same consultants have resulted in a parking situation so frustrating that she never goes to downtown Grandview anymore.
During the rest of the meeting, open discussion on any subject eventually turned back to the parking issue.
Other topics were covered, however. The disconnect of Central Park from downtown was mentioned, along with the desire to improve the alleys and make them ways to connect the city better as well as possible places to display more art. The love of parades in the city was mentioned, and the consultants made it clear that any improvements would make sure a good parade route existed.
The abundance of traffic lights in the downtown core was also covered, with the question of whether all the lights are really needed. The cost to replace the lights at each intersection would be around $300,000 each.
Hough-Beck also suggested "story poles" as a way to connect Sunnyside's past with its present. The poles would be designed to complement existing sculpture and provide information about the history of the town.
The meeting ended past the planned stopping time of 8 p.m. with some ideas for the consultants to take into consideration. The group agreed that the sidewalks should be wider, but disagreed on how to handle the parking issue.
The time of the next meeting will be sent to the group and publicly announced when the date is