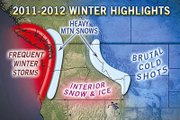 MABTON - Sitting atop the 1A SCAC standings with an unblemished record, the Connell Eagles might have figured they were going to swoop in and out of Mabton last night and fly off with an easy victory.
And why not? After all, Mabton had only one regulation-length victory to its credit thus far this season.
As it turned out, Mabton's girls gave the first-place Eagles all they could handle.
Connell came away with wins in the opening two games Thursday evening, but neither came easy. The Eagles prevailed in the two tightly contested games by scores of 25-18, 25-21.
The momentum switched in game three, however, primarily due to the Lady Vikings digging down deep and playing some excellent team ball. Mabton came out on top in that third contest, 25-23. The Lady Vikes followed suit with another 25-23 decision in game four.
Facing a shortened, race-to-15 rubber game, Connell stiffened and, using its superior height at the net, eked out a 15-10 win to escape Mabton with the victory and its unbeaten record intact.
"Consistency has been our Achilles heel this season," said Mabton Coach Marty McCallum, explaining that even though his club has compiled just a 1-8 mark this fall, the Lady Vikes have shown flashes of solid play.
Last night, playing well consistently wasn't a problem. "Much more consistent play last night.
"I'm very happy with the kids and how they performed. The girls played energized all night long," McCallum said.
If there was a weakness that might have been exposed by Connell, it might have been the few times Mabton had trouble in getting the ball back up to the net for kill opportunities.
"We had a few passing issues, which gave Connell a couple of longer runs than they should have had," said McCallum. "But overall, I thought our kids did a pretty good job."
Five of the Lady Vikes, from an individual standpoint, put up some pretty decent numbers Thursday night.
At the net, the Mabton trio of Jazzee Sustaita, Jackie Cruz and Cassandra Martinez combined for 14 kills. Cruz and Madrigal also totaled four blocks between them.
Mabton's assist leader with her pinpoint sets was Evelia Mendoza, who collected 10 total. She also had a couple of defensive digs and was 8-for-9 from the service line.
Cruz, besides the four kills and three blocks at the net, added eight defensive digs to her stats, three perfect passes and turned in a 15-for-16 performance from the service line.
Madrigal and Angela Martinez also shined brightly in serving the ball over the net for Mabton, as each of them put all 16 of their attempts into play.
The Lady Vikings volleyball team returns to action next Tuesday, Oct. 11, at Riverview.