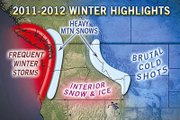 People across the western United States can expect large swings in weather conditions throughout the winter, according to the AccuWeather.com long-range forecasting team.
December is likely to feature above-normal warmth across much of the entire West. However, from late December into January, the team expects a transition where cold fronts will drop farther south along the West Coast, reaching northern and central California.
This transition should bring temperatures back near normal, away from the interior Southwest.
The famed "Pineapple Express," a phenomenon that occurs when a strong, persistent flow of tropical moisture sets up from the Hawaiian Islands to the West Coast of the U.S., could develop for a time this winter. This phenomenon often leads to excessive rain and incredible snow events.
"Last year, California was hit hard when the Pineapple Express set up from Dec. 17-22, producing massive flooding and 13 feet of snow in the Sierra," explained Paul Pastelok, meteorologist for Accuweather.com.
Pastelok added, "The Pineapple Express could develop for a period this winter and take aim at northern and central California. That could lead to monster snowfall and heavy valley rain with the risk of flooding and mudslides."
Snowfall is forecast to average out near or slightly above normal in the northern and central Sierra this year, depending on where the Pineapple Express sets up.
Above-normal rain and snowfall are also possible in the northern Rockies in January and in areas farther south and west during February.
Seattle and Portland are forecast to have a fairly typical winter with near-normal precipitation and slightly below-normal temperatures.
Near to slightly above average snowfall is expected in the Cascades, AccuWeather.com forecasters say.
While the west could be in for weather extremes this winter, AccuWeather.com meteorologist Heather Buchman says the midwest - especially Chicago - could feel winter's worst. She predicts the Chicago area will receive 52 inches of snow this winter, well above the city's average of 39 inches.