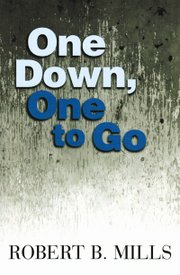 Robert B. Mills' debut novel "One Down, One to Go" delves into the mind of a teenage killer to explore the events leading up to his crime. It's an audacious attempt to analyze a very straightforward event, and it mostly fails in its goal.
Trying to figure out why a person commits a crime is a full time job for psychologists and investigators, but sometimes the reasons seem fairly obvious. In this story, the reasons are clear enough, so the analysis needed to be very good to make it worth reading.
Based on true events, the story is not a mystery. The book is a dramatization of the three years leading up to the murder, and is written in a plain manner which never seems to go deep enough. The reader is frequently told how the characters feel without their actions showing any signs of the emotion. Characters give speeches to each other instead of conversing.
The writing needs polish, but the storytelling is still engaging. A good editor would have helped a great deal, both with style and with the grammatical errors and typos that dot the book.
The fatal flaw with the book is a time jump from chapter three to four. The main character goes from hating his stepfather to being seduced by the man without any description of how it happened. And for the rest of the book, that crucial missing time makes the rest of the story surreal. That initial seduction seems like the key change in the main character, and it's never explained or described at all.
The end of the book seems to come rather abruptly. The outcome of the murder and how it affects the other characters is given in a very short and unsatisfying epilogue.
This book had great potential, but fell short of what it was trying to be. With 25 years as a clerk at the Superior Court of Spokane, Mills probably has some very interesting stories to tell, but he needs a good editor and a better sense of what he's trying to say for his next book.
"One Down, One to Go" is published by Vantage Press.