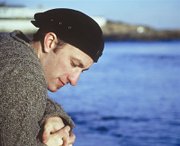 Honest and confessional, yet never overbearing; are the types of songs you can expect to hear from Christopher Williams.
Williams, a Nashville native, will be performing at a home concert located at 104 E. Edison Ave. in Sunnyside on Monday, Oct. 17, at 6 p.m.
Williams will debut his new album, Stone Water Wood Light, during his fall tour. Williams has toured with Grammy Award winning band Jars of Clay. He is most famous among music critics for his single African djembe hand drum performances. In addition, Williams has performed with Christian songwriters Arlo Guthrie, Phil Keaggy and David Wilcox.
Tickets for the show are $15 and maximum occupancy for the event will total around 40 people. Tickets can be secured by calling (509) 840-0941. For more information on Christopher Williams' music or tours visit www.christopherw.com.