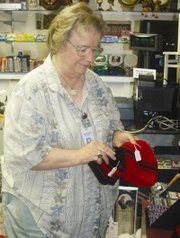 Sunnyside Community Hospital Auxiliary volunteer Barbara Skinner takes her turn each week behind the counter of the hospital's gift shop.
There's no pay, of course, so Skinner enjoys the work for reasons that go beyond dollars and cents.
"The pay doesn't matter. I like meeting the people and getting to know the hospital employees," says Skinner, who has helped out at the gift shop for the past four years. "I really enjoy it."
Besides the task of working the counter, processing sales and greeting the public, another part of Skinner's work is updating the inventory of items for sale.
She says it's important to always keep a fresh and updated supply of goods on hand because those who shop have a variety of needs.
Sometimes it might be a group of four or five hospital employees who crowd in the tiny shop to purchase snacks or to pick up a card or gift for a co-worker.
Many departments in the hospital throw birthday parties, she smiles, and it can be a challenge when the store fills up with people shopping for a little get together.
The gift shop, which also sells flowers, fills a need, too, for families at the hospital because of a loved one who is ill. "We have get well cards and things to help people occupy their time," Skinner says of puzzle books, as well as a selection of used books for 50 cents each.
Of course, there are sometimes happier occasions, such as the birth of a baby and Skinner says the little store is well stocked with gifts to mark the arrival of a baby boy or baby girl.
There are a few side benefits to working at the gift shop, Skinner says, such as reduced rates for meals in the cafeteria and discounts off of purchases.
Those benefits are nice, but for Skinner the main benefit is being part of a cause that supports the medical field.
She says proceeds from sales at the gift shop are dedicated to a scholarship fund for medical students, whether they are high school graduates just getting started with college and plan to be in medicine or are continuing medical students.
In a typical year, Skinner figures there are five to eight students who receive a combined total of about $12,000 in scholarships thanks to sales at the gift shop.
"It's a great feeling to be able to help," she smiles.