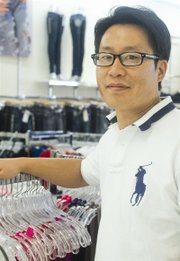 Fashion, business and Sunnyside; all three of which Joon Chung, the owner of Fashion City, knows very well.
Fashion City, a new store in Sunnyside's Mid-Valley Mall, located at 2010 Yakima Valley Highway, is slated to open on Friday, Oct. 14.
Chung moved to the United States from Seoul, South Korea nearly five years ago. A year later, he moved to the Sunnyside area and he's been here ever since.
As a former employee of Gen X, the clothing store that previously occupied the space at the mall, he knew the location very well.
With previous experience in the retail clothing industry, Chung decided it was time to become his own boss.
"I've worked in this type of business before," he said.
The new store will showcase women's and men's clothing, shoes, accessories and luggage.
"We are the total package," Chung said.
Chung said along with a variety of clothing and items to choose from, the prices aren't bad either.
The new business provided jobs for six individuals who began helping Chung ready the store for its grand opening earlier this month. Chung began preparations in mid-August to open Fashion City. In the few short months he has hired a staff, stocked the store with inventory and ordered logos and signage. The preparations his new staff assisted with include organizing and displaying the items for sale, and minor repairs inside the 13,000 square foot building.
The store is scheduled to be open Monday through Saturday, from 10 a.m. to 9 p.m., and Sunday, from 10 a.m. to 7 p.m.
When deciding what to name the store, Chung said it was an easy choice. "Fashion City rolls off the tongue nicely and simply describes what the store is all about."