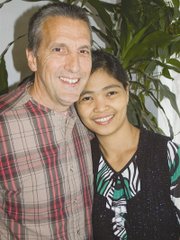 OUTLOOK - As a girl growing up in the Philippines, Lilibeth Snyder prayed God would provide her a Christian husband.
"Lord, give me a person who genuinely loves you," she prayed.
Those prayers were answered in 1996 when she married Outlook native and missionary to the Philippines Clifford Snyder.
The Snyders say God led them to come to Outlook four years ago, where Cliff is the pastor at Outlook Community Christian Church.
After three years here, Lilibeth was able to begin the process to seek citizenship in the U.S.
She said from start to finish it took her about four months to be able to finally take the oath of citizenship. She officially became a U.S. citizen on July 19 of this year when she joined 29 others in Yakima in taking the oath.
Lilibeth says one aspect of obtaining citizenship was preparing all the paperwork needed to help her get established.
There was also the study required on 100 questions focused on U.S. history, government and law. Ten of those questions ended up on the citizenship test.
"It was exciting seeing her go through the questions," Clifford said. "One of the qualities I admire in her is her determination."
Lilibeth says of her new citizenship, "I'm so blessed and proud of it. I did not expect to become a U.S. citizen."
She says it's part of God's work in their lives here.
"God wants us here," she smiles.
But that doesn't mean she and Clifford don't think about the Philippines, where the couple is still involved with a Christian pre-school.
"My heart is in the Philippines, but God wants me here," she says.
Clifford says he and Lilibeth and their six children hope to visit the Philippines and their pre-school in that country next year.
But for now their focus is on their ministry right here in Outlook.
"God is the reason I became a U.S. citizen," says Lilibeth, a Sunday School teacher at Outlook Community Christian Church. "He brought me here."