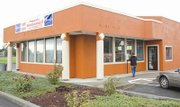 After five years of hitting the road to sell her homemade food, Ericka Jurado is nearly ready to set up shop in her own restaurant.
Jurado and husband Gabino have taken over the old Arby's building on Yakima Valley Highway in Sunnyside and plan to open a restaurant they will call Manzanillo.
While the exterior of the building has had a new treatment, Jurado says the interior of the restaurant will likely remain the same.
The lone interior exception, she says, will be pictures of the sea inspired by the new restaurant's name, which is taken from a coastal area of Mexico.
She says seafood won't be offered just yet, though. She and Gambino hope to open the restaurant by next Monday, Oct. 17.
The food she will be selling is similar to the popular offerings she's been selling at flea markets in Toppenish and Mattawa during the past five years, such as tacos, tortas, burritos, enchildadas and tamales. The restaurant will not offer alcohol.
Jurado says she's looking forward to having her own restaurant. Despite being located near a fast food restaurant offering Mexican food, she likes being in the old Arby's building.
"I like the location," she says of being right on Yakima Valley Highway. "You see a lot of people go by here."