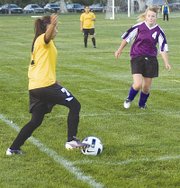 MABTON - After 74 minutes of scoreless soccer the Mabton Lady Viking soccer team broke through in a big way to earn a 2-0 SCAC league win over Goldendale last night.
Tuesday's home victory looked like it might be headed to overtime for Mabton, as both squads put on the defensive clamps.
The Lady Vikes finally cracked the scoreboard in the 74th minute when Marlen Chavez found the back of the net from about 18 yards out.
Moments later, Mabton iced the win when Chavez fed a long pass to Micki Williams. Williams outran Goldendale's defenders from there and booted the ball in.
Mabton Coach Elizabeth Garcia said momentum started swinging her team's way with about 15 minutes left in the match.
"It was a pretty even game and they did a pretty good job of stopping our attacks," Garcia said. "In the last 15 minutes we pushed up our sweeper Jessica Leon to midfield. It gave us a much stronger attack."
The game was so close until the last few minutes that both teams had nearly the same number of shot attempts, 11 for Goldendale and 12 for Mabton.
Garcia also praised her defense for shutting out Goldendale. "Maryellen had a great game," she said of keeper Maryellen Gutierrez, who recorded six saves.
A youth movement of sorts also helped protect Mabton's back line.
Garcia said a pair of freshmen, Cristina Gonzalez and Esperanza Leon, provided a spark on defense. "They've just grown immensely, we have some amazing young players," Garcia said.
Mabton (3-2, 6-5) hosts Highland tomorrow, Thursday.