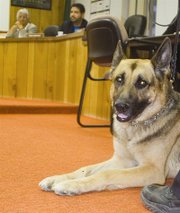 MABTON - The city council welcomed Kris Johnson and her partner in opposing crime, Koda, at last night's meeting.
The Mabton Police Department brought Johnson and Koda on board earlier this month as reserve officers for the city of Mabton.
Koda, an 8-year-old German Shepherd, began his career at 8 months old when he was washed out of German police dog training.
"He was too nice," Johnson said.
One year into his life, Koda began actively patrolling as a police K-9. Throughout his career he has been multi-trained in narcotics and explosives. At one point in his career Koda was ranked third in the nation for his work.
Johnson also joined the force in Mabton with experience under her belt. She began her law enforcement career in the United States military, first stationed in Turkey. Then she was invited to serve on Presidential One as security detail for the president.
"It was a lot of walking," she said.
In addition, Koda and Johnson own their own business traveling to schools where Koda sniffs out narcotics, perhaps stored in lockers or other areas of the school.
While working in Mabton, Johnson says having Koda on board can potentially open the city up for more funding.
"If he makes a drug bust the city could potentially receive some of the funds collected at the bust," she said.
Mabton Police Chief Rick Gutierrez says both Koda and Johnson are a good addition to the department.
"Koda is also getting the attention of the town," he added.