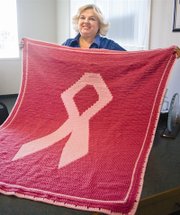 Every year Carol Carrillo of Sunnyside does something to give back to the community.
Some years its warm socks for the homeless, another year collecting blankets for chemotherapy patients.
This year Carrillo's focus is on a fundraiser to help local cancer patients with transportation costs associated with traveling to and from chemotherapy sessions.
Her fundraiser kicks off tomorrow, Thursday, from 9 a.m. to 2 p.m. in the Sunnyside Community Hospital lobby where she will be offering baked goods as well as sewn and crocheted items.
Carrillo's fundraiser will be at the hospital again Friday during the same time frame.
This Saturday and Sunday she will be in front of the Sunnyside Walmart from 9 a.m. to 5 p.m. both days.
"One hundred percent of all donations will stay here in the Lower Valley," she says, noting 75 percent of the funds will be used for gas cards and 25 percent for research.
Carrillo expressed appreciation to help provided by Relay for Life, the American Cancer Society and the Spokane office of the Susan G. Komen Foundation.
As an added incentive to support cancer victims, Carrillo said those donating will have their name put in a drawing for thank you gifts.
The drawing will be held Dec. 6 in the Mid-Valley Mall during the annual Merry Makings Holiday Bazaar.
Thank you gifts will range from crocheted items to gift baskets.
There is an account at Columbia Bank for anyone wanting to make a donation. The account is called "Lifesaver's."
A check can also be mailed to P.O. Box 2, Sunnyside, WA 98944. (Make the check out to "Lifesaver's."
For more information call Carrillo at 831-6710.