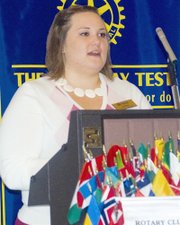 Ashley Burk wants people in Sunnyside to remember that "one man's trash is another man's treasure." Particularly when it comes to donating to the Habitat for Humanity ReStore that will soon be opening in Sunnyside.
At a presentation to the Noon Rotary Club on Monday, Burk said the Sunnyside location was decided upon when it became obvious that the Lower Valley was not being served by the Yakima ReStore location. Because Habitat for Humanity has a strong focus on local efforts, putting a ReStore in Sunnyside will help the program locally.
The ReStore will be located at 1516 Yakima Valley Hwy., a location that once held a meat market. The building was in bad shape when Habitat for Humanity started to work on it. "There were holes in the floor, holes in the ceiling," said Burk. "There was carpet on the walls."
Work has been progressing steadily thanks to volunteers. The new manager of the store, John Aranibar, told Rotarians about some of the people who have donated time to the project. One man came to donate a door, and stayed to work. Aranibar says he puts in almost four hours a day, and "although he is an older man, he works like a young man." Two other men come in before their afternoon work shifts, lending skilled experience to the rebuilding efforts.
Aranibar could not say when the store will open yet, as the building still needs a lot of work. He said they are hoping to get a new floor in soon, and possibly have contractors willing to donate the work. "Everything we save now goes into building houses for people later," Aranibar said.
The Sunnyside store will initially be stocked using back stock from the Yakima ReStore, but it will soon be relying on donations from around the area. "I believe in Sunnyside," said Aranibar regarding donations.
Burk said they will be accepting "anything you might find in a Lowe's or Home Depot." And while it may seem it's not worth saving, if an item is still in working condition then consider donating it. "It may not be the best, but it's still better than what someone had before," she said.
Those interested in donating or volunteering can register online at www.yakimahabitat.org or get put right to work by visiting the store at 1516 Yakima Valley Hwy. during regular business hours.