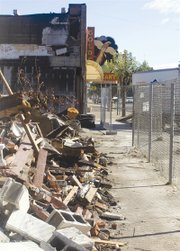 Four months after a fire destroyed two downtown Sunnyside restaurants, progress continues for neighboring property owners as last month Sunnyside city officials approved six permits for repairs.
The fire, caused by an electrical short, destroyed the El Conquistador and Safari restaurants.
Work represented in the six permits has a combined valuation of $166,328.
More than half of that total, $86,000, is for work on the Blue Moon Bar & Grill at 624 East Edison Ave., which sustained fire damage from the neighboring Safari.
Officials also greenlighted permits in September for work to repair fire damage at the Central Building, located on the west side of El Conquistador. Work on the Central Building was valued at $80,328.
The largest single project permitted in September was for a new three-bedroom home at 409 Columbia Ave. valued at $171,882. Permit fees paid for the 1,581 square-foot home totaled $2,060.
In September city building officials issued 15 permits for re-roofing projects. Those had a total combined value of $51,343, with $1,677 paid in permit fees.
Sunnyside also issued six sign permits last month that together were valued at $16,700.
September was also a busy month for home remodels, with city officials approving six projects with a combined valuation of $36,300. By far the biggest update was for a 442 square-foot addition at 1009 S. Tenth St. valued at $30,940.
The 42 projects permitted in September had a total combined valuation of $661,076, netting $7,933 in permit fees for the city coffers.