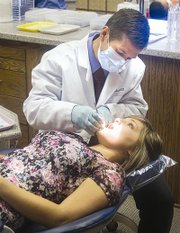 When teeth grow bad, Jared Condie is there to fix them. Condie is an orthodontist, a dentist who specializes in treating teeth that are growing the wrong direction.
For Condie, a career in orthodontics was natural. His science teacher father recognized that his son's interests would lead him to a scientific field, while his friendliness meant he should work with people. "Doctors work long hours and are tied to their pagers," says Condie, so his father suggested dentistry.
An early experience with an orthodontist honed that career path. "I like the before and after of orthodontics," says Condie. His joy comes from seeing the self-confidence his patients gain when dental problems are fixed. He felt the same boost in confidence when he needed orthodontics as a child, and wanted to give that feeling to others.
Like all orthodontists, he is also a fully qualified dentist and has done everything from pulling wisdom teeth to root canals. "I love dentistry," he says, "I absolutely love dentistry."
Condie met his wife at Southern Utah University. They will be married 13 years on the ninth of October. They have four children; the youngest will be two in November.
Sunnyside is a good town for Condie. He grew up on a dairy farm and loves agriculture. He's also fluent in Spanish from living in Argentina for a time as a young man. He recognizes the negatives of the area, but feels that we can, as a community, make this a better place to live.
Condie loves the work ethic of people in the valley, and has tried to instill that love of hard work into his own children. Although he doesn't have a huge plot of land, he has been able to use the property of friends to allow his children to raise lambs, mostly in the summer. He feels that caring for other creatures can help build responsibility and ethics in a child. "You can't slack off with an animal," he says, "They need your help even when you are sick or just don't want to do it."
Through it all, Condie continues to help people with their teeth. "I want to have a positive impact on their lives," he says of his patients. "I like seeing them smile."