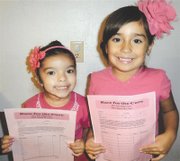 Looking at them, you wouldn't think these two pint sized Sunnyside girls could make much of a dent in ridding the world of cancer.
However, Audrina Campos, 3, and Brielle Olivarez, 5, are out to prove they're cancer-beaters.
The two Sunnyside youngsters have several fundraisers in the works, with all the money being channeled to the Susan G. Komen for the Cure Foundation. Raising money for cancer research, as well as to aid those already stricken with the disease, is one of the requirements to participate in this year's Queens for a Cure Pageant, to be staged in Everett the first Saturday in November.
Campos and Olivarez will be competing in the Princess Division at the pageant, for young ladies 3 to 5 years of age. Besides factoring in how much money they can raise for cancer research, the girls will be judged in a formal dress wear competition, as well as how they perform during a personal introduction. Pageant judges will also be scoring the contestants in cover model and perfectly pink model appearances on stage, as well as giving marks for best smile and prettiest hair style.
The two Sunnyside youngsters are currently accepting cancer research pledges from local residents. Those who would like to make a donation are urged to contact Campos' mother, Amy Rubio, at 391-5172 to make such arrangements.
The two girls are also sponsoring a coin drive at United Methodist Pre-
School in Sunnyside. The children in the classes for 3-year-olds are being encouraged to make donations in a jar that will be set up in each room. The class that donates the most money will be treated to a party.
Also on the immediate horizon is a yard sale that the two Sunnyside youngsters and their parents will stage. Specifics on where and when, though, have yet to be determined.
Those would like to learn more about the Everett pageant, or to check on the legitimacy of the cancer research fundraisers, can access on the on-line site: www.queensforacure.com.