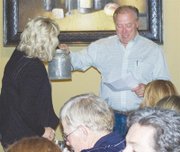 The Yakima Valley Dairy Federation and the Yakima Valley Dairy Women announced a fundraiser for Sunnyside's Promise last night at a Bon Vino's dinner attended by more than 40 members of the dairy and business community along with the leadership of Sunnyside's Promise.
In addition to a commitment for a feed cow auction to benefit Sunnyside's Promise, dairy farmers at the dinner were encouraged to drop off donations during the meeting and to spread the word among farmers unable to make the dinner due to the harvest. Tony Veiga of the Yakima Dairy Federation also said that he had verbal pledges for donations from a number of business leaders in the community as well.
The main focus of the dinner was a presentation by Sunnyside's Promise about the work they do and the impact it is having on the gang problem of Sunnyside. Mark Baysinger of Sunnyside's Promise presented a short video and a slide show that laid out the problem and how a strategic plan has improved the situation in the last two years.
Baysinger pointed out that the group receives a number of grants, but the money from the grants is limited to specific projects, and usually only a small percentage can be used on overhead. Donations from the community, including in kind donations from the city, fill the gaps. Money raised from the dairy fundraiser will help keep the program going at the most basic level, allowing grants and other funding to provide money for programming and events.
To see more information on Sunnyside's Promise, including the video from the presentation, visit sunnysidespromise.org.