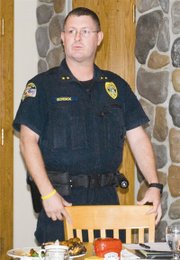 Sunnyside Chamber of Commerce members yesterday (Thursday) were informed by Sunnyside Deputy Police Chief Phil Schenck as to how the police department's gang elimination program works.
He said the plan came about after reevaluating gang reduction efforts about two years ago.
Those plans, said Schenck, were ineffective, although they were recommended by the U.S. Department of Justice.
He said Sunnyside has had four gang surges over the past quarter century. Gangs would seemingly disappear only to reemerge after a few years of what appeared to be calm.
"Right now we are doing a good job of suppression," said Schenck. He said the police have enacted an anti-terrorism model plan to combat the gang issue in Sunnyside.
That plan, he said, is intended to drive gangs out of Sunnyside. But, the Sunnyside police want to take it further, driving gangs out of the Yakima Valley.
"I would be happy if gangs were two states away," said Schenck.
"Counter-insurgency doesn't mean we become an occupying force," he said, stating the police believe in winning the hearts and minds of the community without being oppressive.
The police will target gang members, removing the support system that allows gangs to thrive.
By doing so, Schenck believes the local economy can thrive.
The Sunnyside Police Department intends to work with organizations that support the efforts underway. He believes local businesses are included among those organizations.
Police officers have been added to patrols and a gang unit has been established to provide security, and the police department has also had the addition of a crime analyst for intelligence purposes.
Through intelligence measures, the police department can target gang homes, modes of transportation and means for sustaining themselves, said Schenck.
He said the crime-free rental housing program greatly reduces the gang members' ability to find shelter.
By compiling data on vehicles to which gang members have access, police can better identify those vehicles and effectively remove their ability to use them.
To keep gang members from supporting themselves financially and to protect businesses in the community, the police department is working to notify business owners when a gang member is employed by them.
Schenck said police can notify an employer that the gang member poses a threat because the business could be targeted by rival gang members.
"We've got to take away their (gang members) livelihood," he said.
"Some think I'm being too hard," said Schenck, noting it is the police department's job to make Sunnyside a safe community.
Residents in the community, too, can be proactive. Schenck said he urges gun owners to invest in safes because gang members are obtaining weapons by stealing them from homes.
He also said the police department is working on promoting a positive mindset in the community through the "Believe in Sunnyside" campaign.
Schenck said residents in the community need to redefine what Sunnyside is about, taking pride in the community as a family-friendly city.
To further make that true, he said community members are encouraged to notify police when they see activity that might be suspicious.
"If you believe an individual might be a gang member, call us...we have a set of questions that help us determine if we should make contact with that individual," said Schenck.
He said the fight against the gangs must be a community effort to be successful.